Board Certified Plastic Surgeon
Dr. Mark Leyngold is a nationally renowned board certified plastic surgeon by ABPS with a vast clinical experience. After obtaining his medical degree at FSU College of Medicine he went on to complete a competitive 6-year postgraduate Integrated Residency Program in Plastic and Reconstructive Surgery at the University of Nevada School of Medicine in Las Vegas.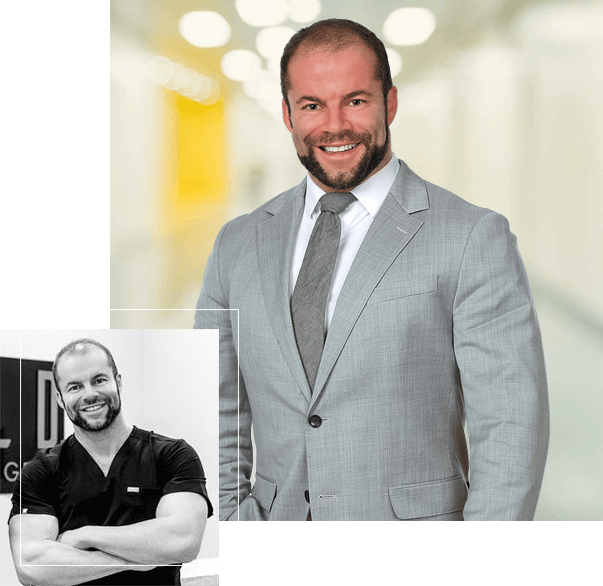 He continued his training with a fellowship in reconstructive microsurgery focusing on breast and head and neck reconstruction in Rochester, NY with Dr. Stephen Vega. Afterwards, he completed an additional year of fellowship training in aesthetic and body contouring surgery at the University of Florida in Gainesville, FL. Following his training he worked as a reconstructive and aesthetic surgeon at the non for profit University of Florida Health Shands Hospital for over 7 years serving as academic clinical faculty. During his time at UF, Dr Leyngold was performing complex reconstructive and cosmetic surgery throughout the entire body, teaching plastic surgery residents, mentoring junior faculty and conducting clinical trials. He was promoted to an Associate Professor due to his accomplishments and clinical prowess.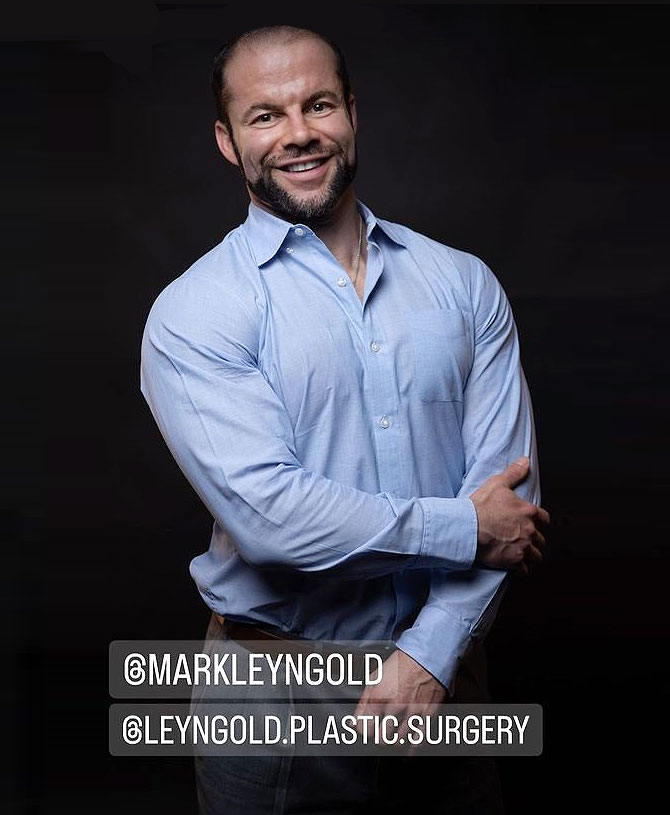 Dr. Leyngold is also an active member of the American Society of Plastic Surgeons and American Society of Reconstructive Microsurgery. He serves on the Wellness committee and Plastic Surgery Inservice committee at ASPS. He is also part of ASRM Young Microsurgery Group which is an honorary society for accomplished microsurgeons. During his time at UF, he was a member of the Quality and Outcomes Committee, SESPRS Bostwick Resident Competition Review Committee, Breast Leadership Multidisciplinary group, and served as a Medical Director of Surgical Specialty Clinics.
Dr. Leyngold has an extensive clinical experience in reconstructive microsurgery, general plastic surgery, facial plastics, body contouring and aesthetic surgery of the face and body. He is experienced in leadership roles as a resident and fellow educator, and former medical director. While at the University of Florida he successfully established a new clinical service line in autologous breast reconstruction performing over 300 DIEP flaps. Additionally, his clinical experience included complex reconstruction of the head and neck, trunk, and lower extremity. He also developed new techniques in aesthetic surgery and build a successful cosmetic practice. Publishing over 20 peer reviewed research papers, book chapters and articles, Dr Leyngold, is dedicated to research and the field of Plastic Surgery. Focused on patient care, Dr. Leyngold's, specific areas of interest include breast reconstruction, facial plastics and aesthetic surgery. On his off time he enjoys spending time with his loved ones, going to the gym and great outdoors. He has competed in multiple physique competitions which keep him motivated to stay shape. He is excited to bring his knowledge and expertise in plastic surgery to Treasure Valley and serve the community.
Media appearances by Dr. Mark Leyngold
Hands down Dr. Leyngold is one of the best doctors that I've ever visited
Hands down Dr. Leyngold is one of the best doctors that I've ever visited. I started seeing him back in 2017 and make a minimum of two visits each year since. He is caring and honest and looks for the most logical solution. I wouldn't trust anyone else with my eyes or face!
Articles and book chapters published by

Dr. Mark Leyngold
Tosan Ehanire MD, Haley M Oberhofer MS Leyngold MM "A Comparison between Abdominal Based and Inner Thigh Based Free Flaps in Breast Reconstruction: A Single Surgeon's Experience" Journalof Plastic, Reconstructive & Aesthetic Surgery. In Press October 21, 2021
Mustafa Chopan MD, Jessica Ching MD Leyngold MM "Successful Microsurgical Scalp ReplantationUtilizing Loupe Magnification". Journal of Craniofacial Surgery. July 8, 2021
Rachel Cohen-Shohet MD., Mariel McClaughlin B.S., Brooke Porter B.S., Leyngold MM "Safety of Coupled Arterial Anastomosis in Autologous Breast Reconstruction" Journal of Reconstructive Microsurgery. 2021 Feb; 37(2): 132-135
Leyngold MM, Katz AJ. Book Chapter 5."Surgical Principles: Grafts, Flaps, Microsurgery"
Plastic Surgery: A Practical Guide to Operative Care. Edited by Bruce A Mast MD Jan 2021
Plastic Surgery: A Practical Guide to Operative Care. Edited by Bruce A Mast MD Jan 2021
Plastic Surgery: A Practical Guide to Operative Care. Edited by Bruce A Mast MD Jan 2021
Tosan Ehanire, MD; Bruce Mast MD; Leyngold MM. "Safety of Microsurgery Under Loupe Magnification: Head to Head Comparison and Outcome Analysis of Free Flap Reconstruction BetweenTwo Surgeons with Similar Experience" Annals of Plastic Surgery. June 2018 – Volume 80 – Issue 6S. p S340–S342
Tosan Ehanire, MD; Bruce Mast MD; Leyngold MM. "Safety of Microsurgery Under Loupe
Coady L., Leyngold MM. James McGuire., et al. "Assessment of Free Flap Breast Reconstructions"Federal Practicioner Journal. 2017 Sep p 33-3
Leyngold MM, Riverra-Serano C. "Microvascular Penile Replantation Utilizing Deep Inferior Epigastric Vessels" Journal of Reconstructive Microsurgery. 2014 Oct; 30(8):581-584