Corneal Neurotization (CN) is the only definitive treatment for neurotrophic keratopathy (NK), a condition where the affected individuals develop numbness (anesthesia or hypoesthesia) on the clear front part of their eye (cornea). NK can result from various types of injuries to the trigeminal nerve.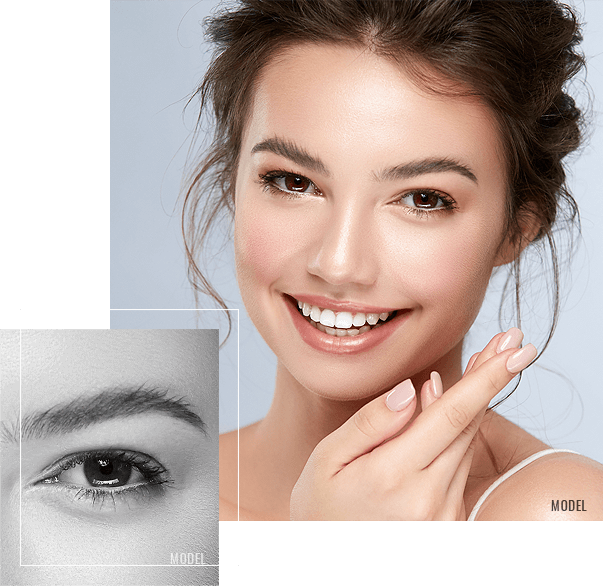 The causes of NK can range from herpetic eye infections, eye surgery, topical eye drops to neurosurgical procedure and brain tumors. Regardless of the cause many patients who develop corneal anesthesia may progress to severe stages of NK that may result in blindness and even loss of the eye from corneal ulceration, scarring, and perforation respectively.
While there are many other available treatment options for NK, none have been definitively shown to address the loss of corneal innervation which is the underlying cause of NK. Therefore, these therapies do not result in long lasting success once they are discontinued or tapered off. In contrast to these interventions, CN aims to address the root cause of NK by transferring a healthy expendable donor nerve from the adjacent area of the face to the cornea, thereby re-establishing the critical nerve supply necessary to maintain long term integrity of the corneal surface.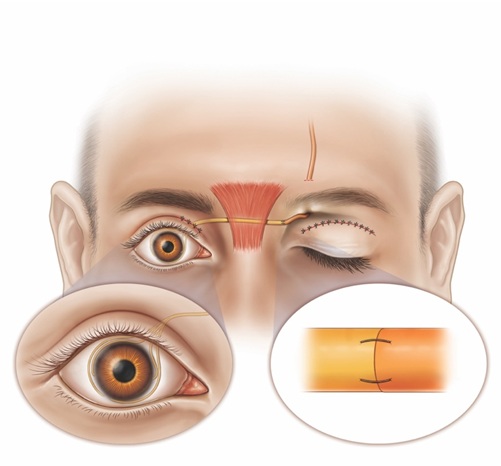 Dr.Ilya Leyngold is one of the world's leading pioneers in CN having published and presented his techniques in numerous peer reviewed journals, and national and international meetings respectively. He developed minimally invasive techniques to perform the surgery resulting in decreased operative time and faster recovery. One of the operations he designed involves direct transfer of the nerve above the affected eye through a small upper eyelid crease incision avoiding the need to harvest nerve grafts or make a large incision behind the hairline (previously described techniques). Another operation he developed involves the use of a cadaver nerve graft to connect the healthy donor nerve to the affected cornea. Patients travel from all over the country and the world to have the procedure with Dr.Leyngold. Initial consultation can be performed via a telemedicine platform. During your consultation Dr.Leyngold will discuss your candidacy for the surgery and the best surgical option for you.
Given that nerve regeneration is a relatively slow process it generally takes anywhere from 3-6 months after surgery to start noticing improvements in the cornea. However, the improvements may take much longer in some patients. The success is measured by resolution of corneal ulcerations, improved vision, and improved ability to feel the eye drops, wind, etc., in the eye. In addition, those with pre-existing corneal scarring are able to undergo successful corneal transplantation to restore their vision.
Leyngold IM, Kossler AL, Yen MT, eds. Techniques in Corneal Neurotization. St. Louis: Quality Medical Publishing, 2020.
https://www.qmp.com/product/techniques-in-corneal-neurotization/156
Video Feature on Healio Ocular Surgery News, January 23rd, 2020.
(https://www.healio.com/ophthalmology/cornea-external-disease/news/online/%7Bdb72004b-df20-44fc-a128-844c0b21d0bc%7D/video-leyngold-touts-corneal-neurotization-for-neurotrophic-keratopathy?fbclid=IwAR2gP-68gd-4Y8pMQlOVli-gcOuoM5D7AQYBuHMV_6zolzgZXKMsYkrv78Y)
"A Cure for the Neurotrophic Cornea?" CRST. Cornea/March 2019 by Angie E. Wen, MD
(https://crstoday.com/articles/2019-mar/a-cure-for-the-neurotrophic-cornea/)
Family Living Outside United States Sought Duke Specialist to Treat Child with Severe Neurotrophic Keratopathy

Bilateral corneal blindness, insensate cornea present risks for permanent blindness by Timothy Pitman in Duke Clinical Practice Today - Ophthalmology, Issue #122, May 21st 2019
(https://dukeeyecenter.duke.edu/news-events/family-living-outside-united-states-sought-duke-specialist-treat-child-severe)
Leyngold IM "Minimally invasive corneal neurotization" The Ophthalmologist, issue 0318, March, 2018
(https://theophthalmologist.com/issues/0318/minimally-invasive-corneal-neurotization/)
"Duke clinician-researchers present exciting new research" from Select Findings from AAO 2018 by Catherine Lewis, Nov.6th 2018.
(https://physicians.dukehealth.org/articles/select-findings-aao-2018)
"First use of cadaver nerves to repair corneal anesthesia shows promise" Duke Eye Center Vision magazine, page 11. 2018.
https://issuu.com/dukeeyecenter-visionmagazine/docs/duke_vision_2018.final_pages/20
"First-of-Its-Kind Surgery for Severe Neurotrophic Keratopathy" by Catherine Lewis, Clinical Practice Today from Duke Health, October 2017, pp 10 -11
(https://physicians.dukehealth.org/articles/first-its-kind-surgery-severe-neurotrophic-keratopathy)
"First Use of Cadaver Nerves to Repair Corneal Anesthesia Shows Promise Halts Permanent Eye Damage, Promotes Faster  Recovery" in Duke Health Blog by Deborah Geiger, September 08, 2017.
( https://www.dukehealth.org/blog/first-use-of-cadaver-nerves-repair-corneal-anesthesia-shows-promise)
If the path be beautiful,
let us not ask where it leads.
Frequently asked questions about corneal neurotization
Please do not hesitate to discuss any questions or concerns you may have regarding surgery with Dr. Ilya Leyngold.
I strongly recommend this physician! Our family is extremely appreciative of all he has done for my daughter's vision!
Dr. Ilya Leyngold did my daughter's corneal neurotization surgery. My daughter is a complex case. She is 7 years old and has many medical complexities, hydrocephalus, chiari malformation, hearing and visual impairments, amongst other disabilities. Dr. Leyngold went above and beyond in caring for her and I am extremely impressed at how well her vision improved after the corneal neurotization and partial tarrsorraphies. He is extremely knowledgeable and has excellent bedside manners. She recovered extremely well and had no complications after Dr.Leyngold operated on her eyes. He was very thorough in explaining everything and I was quited impressed by his fast responses to any questions I had anytime I emailed him.