Increasing breast size is a consistently popular way our patients build their personalized aesthetic. We aim to provide each patient with results that build on their natural beauty, maintaining a natural look while still creating stunning changes. When you choose breast augmentation in Meridian at the 
Leyngold Institute for Plastic Surgery
, you give yourself the opportunity to achieve your ideal body.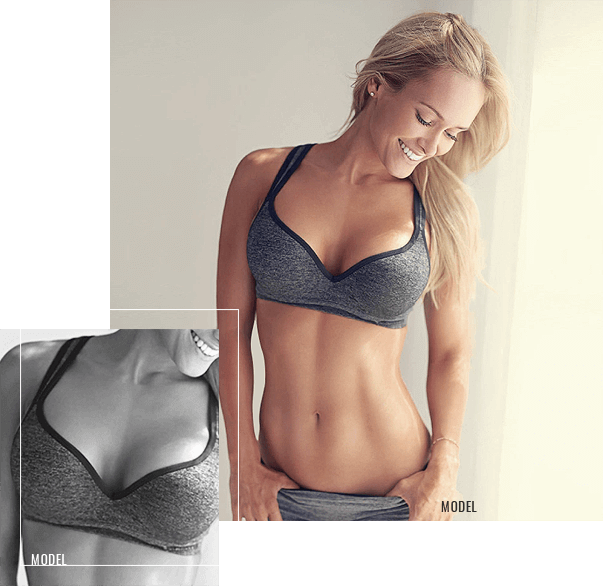 What Is Breast Augmentation?
Breast augmentation, also known as breast enlargement or breast enhancement, involves the placement of breast implants in order to increase fullness and improve breast shape. This procedure can be used to balance breast size and/or volume, restore breast volume after weight loss or pregnancy, reconstruct the breast after a mastectomy, or simply enhance overall size. It has been a staple of cosmetic surgery for years and continues to remain popular among a wide range of patients. We always look for ways to achieve a balanced and natural look for our patients, bringing out the best by working with their body shape.
The two most common types of breast implants available at our practice are saline and silicone. Saline breast implants are filled with a sterile saltwater solution, while silicone breast implants are filled with a cohesive gel that closely resembles natural breast tissue. Gummy bear implants are also available, which are a type of highly cohesive silicone breast implant. These implants provide a very natural look and feel while also being very durable, making them highly popular. Patients may also choose breast augmentation with fat transfer instead of implants. A consultation with one of our surgeons will help you decide which type of breast implant is right for your desired look and lifestyle.
What Are the Benefits of Breast Augmentation?
Breast augmentation may offer many benefits to our patients, making it a consistently popular procedure for a broad range of patients. Some of the benefits you may see include:
Increased breast size and fullness
Improved symmetry and breast shape
Enhanced self-confidence and body image
A natural look that will last for years
We understand the importance of feeling comfortable in your own skin, which is why breast augmentation can be the ideal option for many patients. Call us today to set up your consultation and start by seeing if you are a candidate for the procedure.
The world's big and I want to have a good look
at it before it gets dark.
Are Breast Implants

right for me?
The best way to determine if breast augmentation is right for you is to come in and speak with one of our experienced surgeons. We will go over your goals, discuss the options available for breast implants, as well as answer any questions about the procedure. If you want to increase your breast size, then augmentation can be the optimal solution. For improving breast shape, we also offer a procedure called a breast lift. Some patients may also see ideal results by combining a breast lift with breast augmentation for both enhancements in size and shape.
During your breast augmentation surgery, breast implants are inserted through an incision in the breast area. Depending on patient preference and body type, we offer a variety of implant placement options for breast enlargement. We always use the method that will result in the least amount of scarring. Afterward, our surgeons will use sutures to close the incision and then bandage it with a surgical dressing or garment to promote healing. Patients will typically receive general anesthesia to remain comfortable for the entire procedure, but they can return home the same day. You can expect about 2 hours for your surgery, though this can vary if you are combining procedures.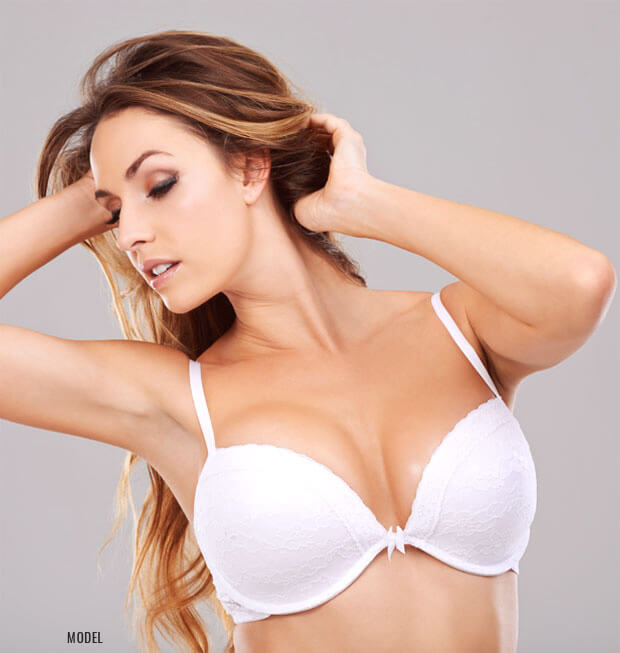 What Is the Recovery Like for Breast Augmentation?
Most breast augmentation patients find that the recovery process is relatively tolerable and mostly straightforward. However, you will need to take it easy for a few weeks while your body adjusts to the implants, with most patients taking this time off from work. Initially, after surgery, some pain and swelling in the breast area are expected and normal, but this will gradually fade as you recover. These can also be managed well with medication, and by following the post-procedure instructions we provide you.
Patients can typically see some results right away in that breast size will be noticeably larger. However, it will take a few weeks or months for the breast area to settle and full effects to be visible. As the swelling goes down, you should begin to see your final results becoming more visible.
Schedule Your Consultation Today
You can take the first step toward getting your ideal breast implants today by 
scheduling your consultation
 over the phone or through our online form. You will meet one-on-one with one of our experienced surgeons to discuss your goals and learn if breast augmentation in Meridian is right for you. Contact us today to lock in your consultation and get started on building a personalized aesthetic.
I have recommended Dr. Mark Leyngold to so many of my friends.
I have recommended Dr. Mark Leyngold to so many of my friends. I have been thinking about breast augmentation for years and have had numerous consults in different states. I am so glad I decided to choose him! My results were everything that I asked for and more! Natural, perfect results (and I am a perfectionist). I am beyond happy. I couldn't have asked for a better outcome! 5+ stars
42 year old 3 months after bilateral dual plane breast augmentation with smooth round silicone implants
45 year old female 4 months after bilateral implant exchange to Sientra moderate profile 385 cc silicone gel highly cohesive implants
Shown here is a 30 year old woman 3 months after bilateral dual plane breast augmentation with
440 cc Smooth round high profile gel implants.
39 year-old mother is shown here 5 months after bilateral breast augmentation with
peri areolar mastopexy with 455 cc shaped high profile implants.
Shown is a woman in her mid twenties 4 months after bilateral breast augmentation with
Sientra Gel Xtra High Profile smooth round implants
38 year old female 6 weeks after bilateral dual plane breast augmentation with
325 cc Sientra Moderate Plus Profile Smooth round breast implants
32 year old mother 3 months after bilateral dual plane breast augmentation with
340 cc smooth round moderate plus profile mentor implants