Mastopexy and Augmentation
A woman's breasts often begin to droop over time, losing their youthful shape and firmness. These changes and loss of skin elasticity can result from pregnancy, breast feeding, weight fluctuations, aging, gravity and heredity.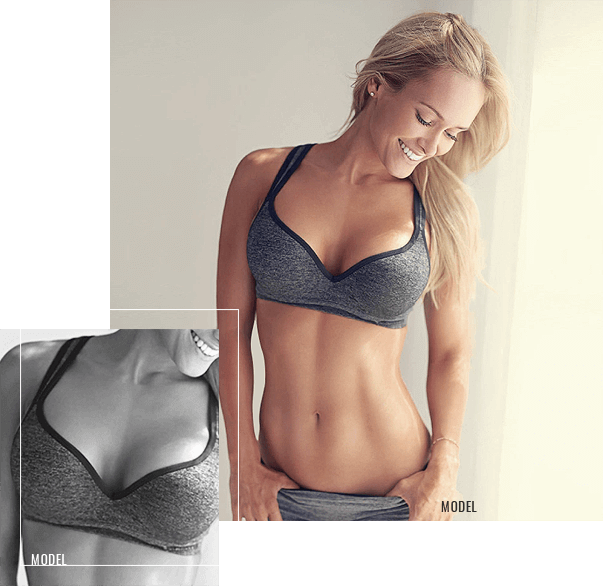 Breast lift surgery can reverse these changes by using a combination of techniques that allows for the removal of excess breast skin, reshaping of the breast mound and reduction in the size of the areola. A breast lift alone, however, may not provide sufficient upper breast fullness in patients that feel that their breasts have also "deflated" in addition to becoming droopy. In this case, breast implants can be added during the breast lift surgery in order to add volume and upper pole fullness to the breasts.
Breast lift (aka mastopexy) and implant placement (augmentation) can be performed together in one surgery (usually preferred) or separately in 2 different surgeries. If two different surgeries are required then generally mastopexy is done first and breast implant is placed 3 to 4 months later once you are fully healed after a lift. Dr. Leyngold will recommend the best approach based on your breast shape, size, quality of skin and nipple position. The ultimate goal is to achieve the best possible outcome and make sure your results are long lasting.
A few facts should be mentioned in regards to process of having a combined breast augmentation and breast lift surgery. First of all, the breast lift procedure includes reducing the size of areolas (the dark skin surrounding the nipple) which produces a much more youthful appearance of the breasts following the surgery. Secondly, even though the areolas (nipples) are reduced and moved higher on the breast mound during the surgery, they remained attached to the breast throughout the entire surgery and they are NEVER removed at any time. I often say that the "plumbing remains intact" since the areolas/nipples are never detached from the breast and the majority of the nerves and milk-ducts should therefore remain intact and functioning properly. This is important mentally, emotionally and physically since most women feel better knowing that their nipples are never detached from their body during the surgery and they do not necessarily have to sacrifice sensation of their nipples or their future ability to breast feed after a breast lift procedure. Dr Leyngold is very experienced in performing combined breast lift/augmentation procedures using silicone breast implants of different shape, size and projection as well as being proficient in performing all the most current and effective breast lifting techniques. Generally speaking a smaller less projected implant is recommended when these 2 procedures are combined in order to reduce the rate of complications. Lastly, although most women are concerned with scarring following a breast lift procedure, the healing process has been enhanced by modern scar therapies that are now available such as topical scar creams, silicone sheeting and other scar treatments that all help scars fade away over time. Its important to be patient and realize that scar maturation and remodeling takes time and it may take up to 2 years.
During your consultation, Dr Leyngold will address your desires from combining a breast lift and breast augmentation procedure and he will give you a clearer understanding of how a combination of these procedures may best be able to meet your own needs and expectations. Dr. Leyngold will also give you an opportunity to ask him any question you may have about breast surgery as well as its possible benefits in your particular case. When going into your consultation, it is wise to come with questions written down and have a general understanding of the overall procedure so you can be prepared to learn as much as possible during your visit with Dr. Leyngold. You are encouraged to bring in photographs you may have obtained on your own from magazines or various internet websites which show the desired "look" you would like to achieve from surgery. By the conclusion of your consultation, the possible options available to you for your breast surgery should be discussed and will typically include different types, shapes and sizes of breast implants as well as the various lifting techniques that are available in your particular case.
Very Nice Experience!! With him and his whole Staff.
Very Nice Experience!! With him and his whole Staff. They make you feel so comfortable and assured that your in great hands I highly recommend him he's on point with his work, also concerned when you talk to him Loved being in their care what an awesome Team!!!.
Patient in her 40s 3.5 months after implant exchange to silicone gel highly cohesive implants, mastopexy and durasorb (aka internal bra support)
29 year-old -female 3 months after mastopexy and breast augmentation with 325 cc MP Sientra silicone gel round implants and axillary liposuction.
Shown is a 32 year old woman 3 months after revision of her breast augmentation. We replaced her implants with moderate profile 355 cc
smooth round silicone gel Sientra device, placed Durasorb (aka internal bra suppport) and performed mastopexy (breast lift) to ensure long lasting results
49 year old female 6 weeks after bilateral breast augmentation
with 215 cc moderate plus profile implants and vertical mastopexy.
33 year old female 4 months after bilateral breast augmentation
with round base "tear drop" 370 cc Sientra implants and Periareolar mastopexy